PatBase Enhancements (01 May 2007)
NEW EXPORT FEATURES
Exporting selected family members in to a Publication Report
New fields are available for export in the 'Publication Report' format, which lists data by individual patent publication instead of by family. Publications can be selected by 'earliest priority date' and by 'members list' as well. 'Members list' lists documents in the order contained in the patent family. The fields available for 'Publication Report' are shown in the screenshot below.
New filtering options are available before the final export:
Export all family members from all countries,
Specify the country/countries of origin,
Export one member per family only, from a preferred country.
In addition, users can select family members for the PDF Order Basket while reviewing hits and then request that only those selected for PDF order should be exported into a Publication Report.
<![if !vml]>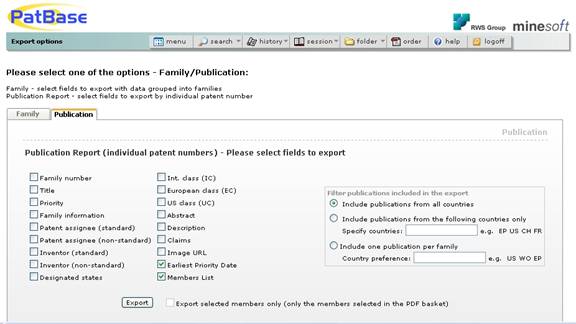 <![endif]>
After clicking on "Export", the file can be saved in CSV, XML, Excel, and HTML Table-format for further analysis.
When using the 'other formats' export-option:
Family Report: Two new fields are available for export
Users can select the Earliest Priority Date and Earliest Publication Date to export in the family export option:
<![if !vml]>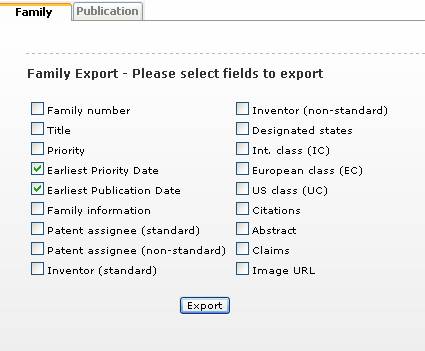 <![endif]>
New Display format options: Plain and Simple
Simple: This display-format contains no tables.
Plain: This display format contains fixed text only.
The new display formats can be used when exporting search results, folders and session logs.
New Forward and Backward Citation commands: CTF and CTB
CTF – Forward Citation Searching
The new CTF command allows the user to find the Forward Citations for families from a search result set. Please note that citations found in the first 250 results in the search set will be returned.
CTF "search#" [e.g. CTF 1] will retrieve forward citations for families found in that search (up to the limit of 250 results).
<![if !vml]>

<![endif]>
CTB - Backward Citation Searching
The CTB command locates backward citations from a search result set. CTB "search#" [e.g. CTB 1] will retrieve all backward citations for families found in that search (up to the limit of 250 results).
New field in Custom-display-format: KWIC
Keyword-in-context (kwic) is available now in the custom-display-format:
The KWIC feature displays only the particular parts of the record in which search terms appear. This can be very useful when scanning full-text for relevance and providing output.
<![if !vml]>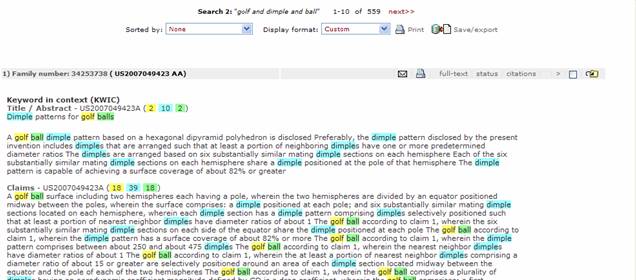 <![endif]>
New: Statistical-Analysis for the Japanese Classification has been added
In addition to analysing IPC, EC or US classifications, users now have the option to perform statistical analysis on the Japanese F-Terms. This means for instance that users can perform keyword and other types of search and then analyse the Japanese F-Terms to find out which F-Terms were most frequently applied, then re-search those F-Terms to retrieve other documents of a similar nature:
<![if !vml]>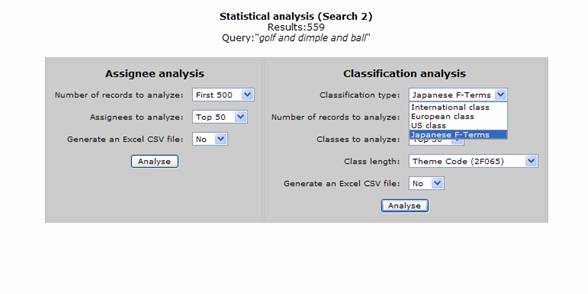 <![endif]>
PatBase Enhancements (01 March 2007)
Individual descriptions can be added to Folders. Users can add their Folder-description and share the information via the shared Folders.
A separate folder description can be associated with each folder.
<![if !vml]>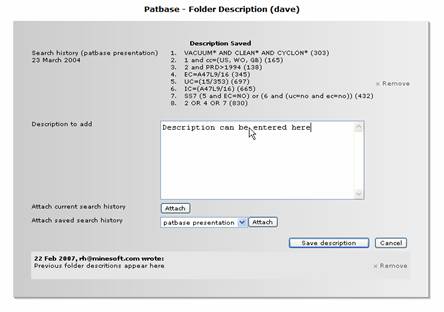 <![endif]>
Saved History can be added to Folders. Together with the Folder-description Users get a better understanding of the Folder-structure.
The saved history will stored with the folder description for further follow-up.
Individual notes can be added to each family in a folder.
Each note will be added to the notes-history. If a folder is shared these notes will also be shared. Any user can add or remove notes from a folder.
<![if !vml]>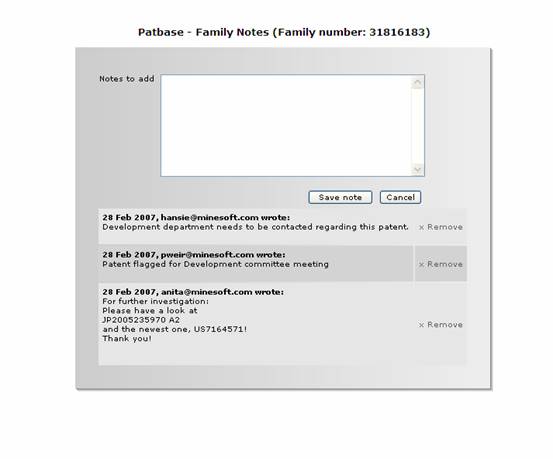 <![endif]>
Advanced Highlighting within the Folder
Users can apply the Advanced Highlighting within the Folders. The highlighting will be kept for the Folder and can be edited at any time:
<![if !vml]>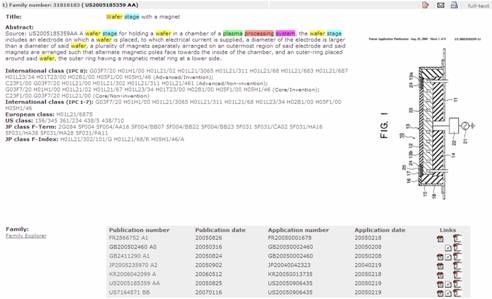 <![endif]>
Highlighting Schemes for Folders
The applied Highlighting can be saved for further usage.
<![if !vml]>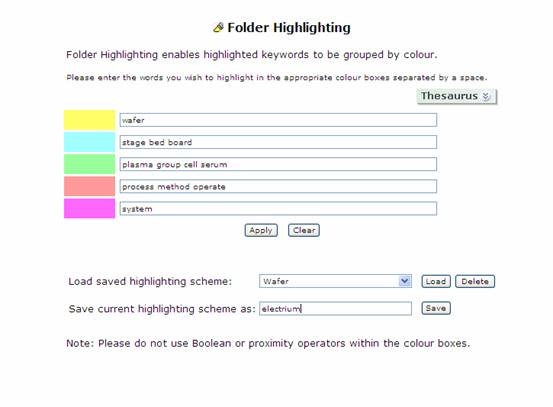 <![endif]>
Folder-export with or without the notes or description
The export of family notes or folder description is optional, folders can be exported with or without them.
<![if !vml]>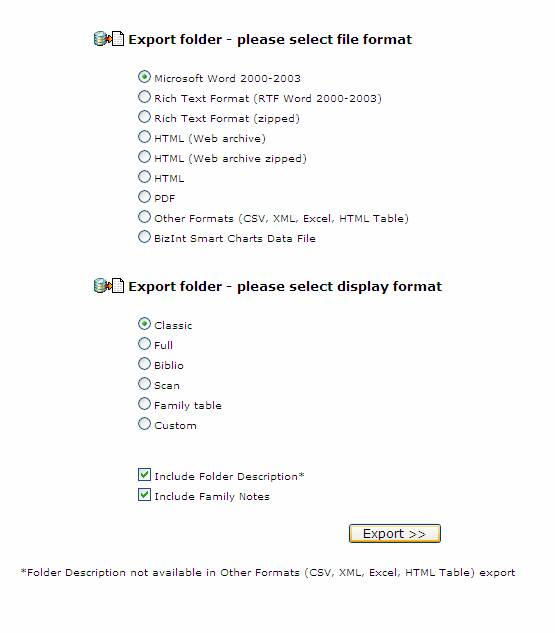 <![endif]>
New Export Option: BizInt SmartCharts
PatBase supports the export of the data into Bizint SmartCharts.
BizInt Smart Charts software products help information professionals organize, analyze and present drug pipeline and patents information.
BizInt Smart Charts for Patents creates tabular reports from the leading patent databases. BizInt Smart Charts for Patents will automatically process the transcript and create the report. Data from different databases can be combined into one report with the table, records and images.
For further information about BizInt please go to: http://www.bizcharts.com/
PatBase uses auto stemming when highlighting keywords, this means that derivates of your keyword will be highlighted as well as the words itself. This feature can now be disabled by individual users.
<![if !vml]>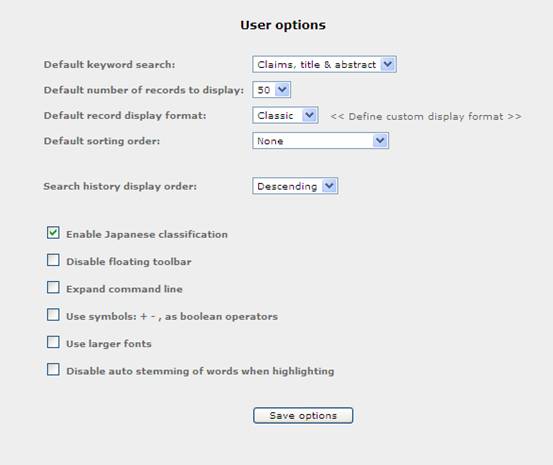 <![endif]>
PatBase enhancements (23 October 2006)
New Machine Translations – also of Full-text!
More Machine Translation of abstracts is offered in PatBase, as Spanish language abstracts are being translated into English as well as German and French. In addition, PatBase now offers on the fly machine translation of Full-text from English into French, German, Portuguese and Spanish. Data in these languages can be translated in reverse, too – e.g. American patent documents into French.
<![if !vml]>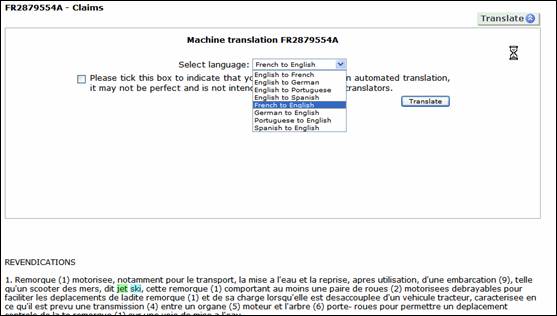 <![endif]>
The Japanese Classification is fully loaded and available for searching. It is searchable in the Search Form and Command Line. More information is available in the Help File/ in the PatBase Manual. A special Look-up facility has been prepared with many additionally translated keywords, available exclusively in PatBase, giving English language translated terms. Enable Japanese Classification searching/ viewing in results by clicking this option in "Settings".
The ECLA Classification Definition Viewer tool has been enhanced, simplified and tidied up, for PatBase users. This means that the corresponding point in the ECLA will display with more precision.
Highlighting Schemes – Save preferred keyword lists for later use!
Users can save their own Highlighting Schemes for later usage. The saved Highlighting Scheme can then be called up and used again on another search-result. In addition, words highlighted in full-text are now "bounced" into context on the screen.
<![if !vml]>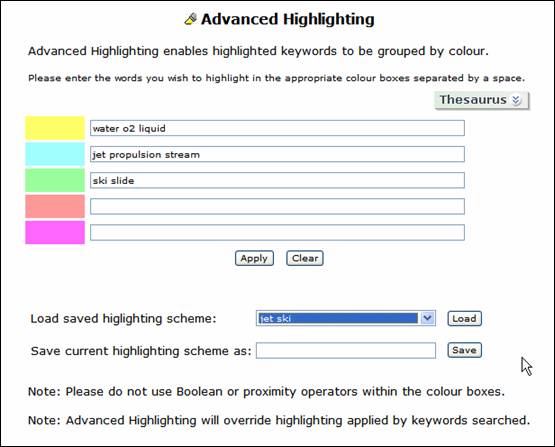 <![endif]>
A Thesaurus look-up is offered in PatBase to help choose terms to search and to highlight in search results! The thesaurus helps users find / choose further synonyms to use in the Highlighting function. It can be used to discover additional search terms as well, by checking the Thesaurus function before searching.
<![if !vml]>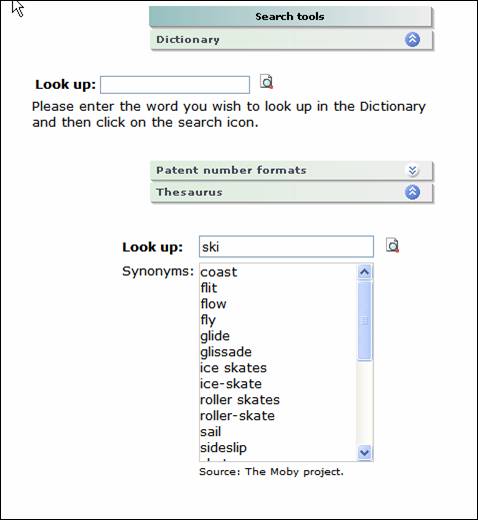 <![endif]>
A full Wiktionary Dictionary look-up has been integrated into PatBase with an enhanced viewer, to allow word definitions to be located fast. This also offers a translation across languages.
One Click PDF save/order in PatBase is now available for PatentOrder subscribers to the web version, either on Intranets or hosted by Minesoft.
Several new, convenient export options have been added to PatBase. Data can be exported into raw XML data or into CSV, Excel or HTML Table format as well, for further manipulation, reporting and analysis.
<![if !vml]>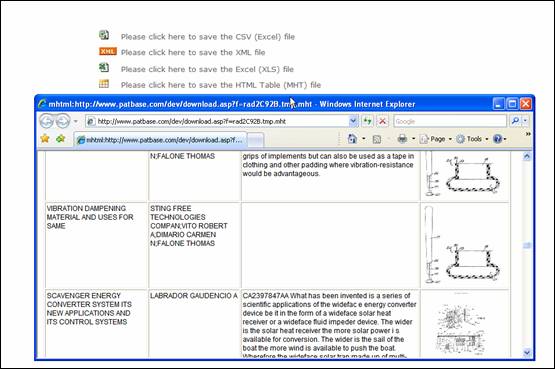 <![endif]>
Patent Number and Kind Code Look-up
A new possibility to view all the various Patent Number and Kind Code formats by year for a given country code in a popup window has been added, making it easy to see what is available for searching in the underlying PatBase data.
<![if !vml]>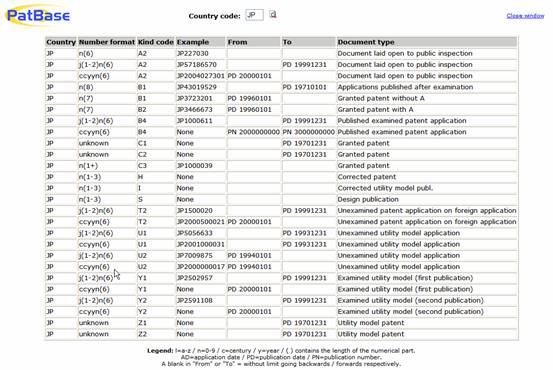 <![endif]>
PDCC Command (Date ranging on a specific country code)
A new command has been introduced: PDCC, which allows the user to search for a given date or date range combined with a country code, Eg:PDEP>1995
"Super Class" SC Command (Search all classifications at once)
A new command allows all classification schemes to be searched simultaneously, called Super Class (SC in the Command Line). SC=G01B will retrieve matching results from IPC, US Class, ECLA and the JP Classification schemes.
Citation Searching - has been enhanced by adding the possibility to choose to view either Backward or Forward Citations – or both at once. This gives more flexibility to users in creation of a mini citation report.
Alert Service – Competitive Intelligence
The cost-effective alert service is proving popular. Weekly alerts are delivered as active links to the document results in emails now, rather than as attachments. This circumvents the fact that some companies only permit small amounts of data as email attachments. The link remains active for a period of 30 days.
A Support / Helpdesk Request Facility has been added to PatBase so Users can send support requests directly to Customer Services while connected to PatBase, such as questions about the search language, display and highlighting, exporting data, missing or suspected errors in data, etc. Please give as much detail as possible, to speed up the enquiry.
Improved support has been added forFirefox & Safari browsers for PC and Apple OSX.
PatBase enhancements (6 March 2006)
Family Explorer
PatBase Family Explorer enables users to drill down into PatBase families and explore information which relates to individual publications. This visualisation tool provides easy navigation through family members. Print and export as html options are provided and links to relating INPADOC legal status and to the corresponding Priority Map are also available. (Please find information about the Priority Map below).
Priority Map
The Priority Map identifies and clearly displays the connections between priority number and patent number. The information can be viewed in a map which can be exported to Excel and as breakdowns by both patent number and priority number. A concise picture of the relationships between patents belonging to a PatBase family is drawn from all angles.
Further CSV export options
CSV has been developed to include an individual publications export option. This is called a 'Publication Report'. This feature enables users to export and view information relating to individual patent family members. Choose to export your information, select the CSV option then choose either 'Family' or 'Publication Report'. Both options provide a field selection option. Check the fields you would like to appear on your Excel file and then click 'Export'. The check boxes of your last export will remain as set until changed.
<![if !vml]>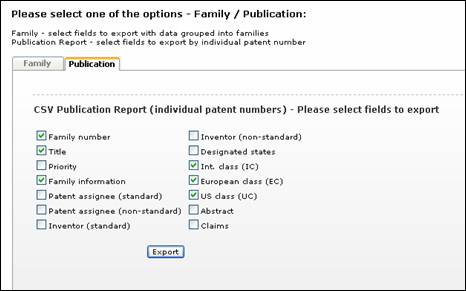 <![endif]>
Advanced Highlighting
An option to group keywords to be highlighted by colour has been added to PatBase. Advanced Highlighting can be accessed in either the 'view' or 'browse' modes. In the 'view' mode click on 'full-text' and then once this screen has appeared click on <![if !vml]>

<![endif]> Advanced Highlighting. In the 'browse' mode the icon is found at the bottom of the screen. Advanced highlighting will remain until it is edited or cancelled. If you wish to recall the last keywords used in Advanced highlighting, click 'Last used'.
PatBase and IPC 8 (January 2006)
The introduction of IPC 8 to PatBase will further enhance the valuable classification searching tool, adding another dimension to the existing International (IPC), European (ECLA) and US (USPC) Classifications.
The old IPC (editions 1-7) remain as legacy data and continue to be searchable at all levels.
IPC 8 is searchable at Core and/or Advanced levels, with further options to restrict to Invention and/or Non-invention classification(s).
IPC 8 will be propagated across families for the backfile (prior to 2006), but the frontfile will not, and so each family member may have different classifications (as is the case with existing IPC classification). As PatBase is based upon one record = one extended family the frontfile classification will automatically be propagated across families. IPC 8 in PatBase , will therefore be searchable across families for the entire search period.

Note: The backfile is currently being loaded. Loading is scheduled for completion in the second quarter of 2006.
For IPC 8 options and commands please refer to the PatBase Help Files (found once logged in), under Searching / Search form and Searching / Search language.
If you have any questions or require further information please click here or email: info@patbase.com
New enhancements to PatBase (4 July 2005)
Email a PatBase record
A PatBase record can now be emailed as an html email attachment together with any notes you wish to add. Click on the

icon found on the top right hand side of each record and a pop-up will appear. The record can be sent to numerous recipients at one time if required. Email addresses should be separated with a semi-colon. Add a subject heading and a message and then click send email.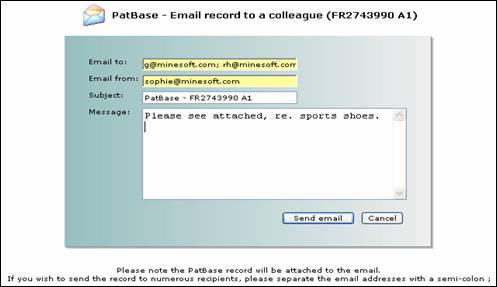 Add records to different results folders
Users can now conveniently add records to any created, private folder by clicking on the

icon, which can be found on the top right hand side of each record. Clicking on this icon will open a pop-up listing all your existing folders. You can then select which folder you wish to put the record in by ticking the corresponding box.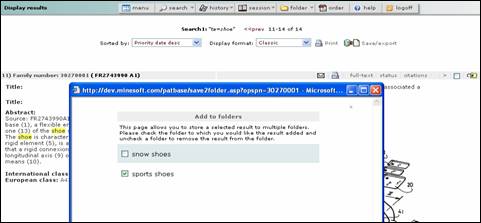 The open folder function works as before. If you want to put a record in the open folder, click in the check box.
Enhancements to export feature
Search results can now be exported directly from the Display results page by clicking on the

icon found at the top of the page, or from the Search history page by selecting the 'more' option and then choosing 'export search results'.
New export formats are PDF and CSV (Excel). There are new options to keep highlighting and to include your search history in your exported records. A sort by option is also now available.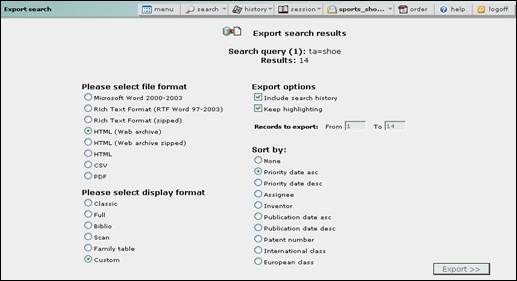 Enhancements to results folders
Users now have the ability to sort documents within a results folder.
The export function from a folder has also been enhanced to include PDF and CSV (Excel) format options. However, the options to keep highlighting and to include your search strategy in your export are not available once the data has been removed to a folder. If you wish to keep the highlighting and include your search history in your export, please export your data directly from the Display results page, or from 'export search results' found under 'more' on the Search history page.
Date ranging on weekly updates
Date ranging has now been introduced when searching in the command line for UP (updates for new families) and UE (updates for new families and equivalents).
e.g. UE=YYWW:YYWW UE=0442:0502
UP=YYWW:YYWW UP=0501:0510
UP>YYWW UP>0501 (greater than week 01, 2005)
UP and UE searching is available from late 2004.
Stop words
All stop words except for 'and' 'or' and 'not' have been removed from PatBase. This enables users to search for, for example ' therotationof the piston'.
Enhancements to PatBase data
EP Bs are currently being added to PatBase. In the first instance this will be from 2000 – date, but the back date will be extended over time. Please refer to the country coverage information, found in the hyperlinks on the right hand side once logged in, for updates on the EP B availability, as the implementation of EP Bs is gradual.